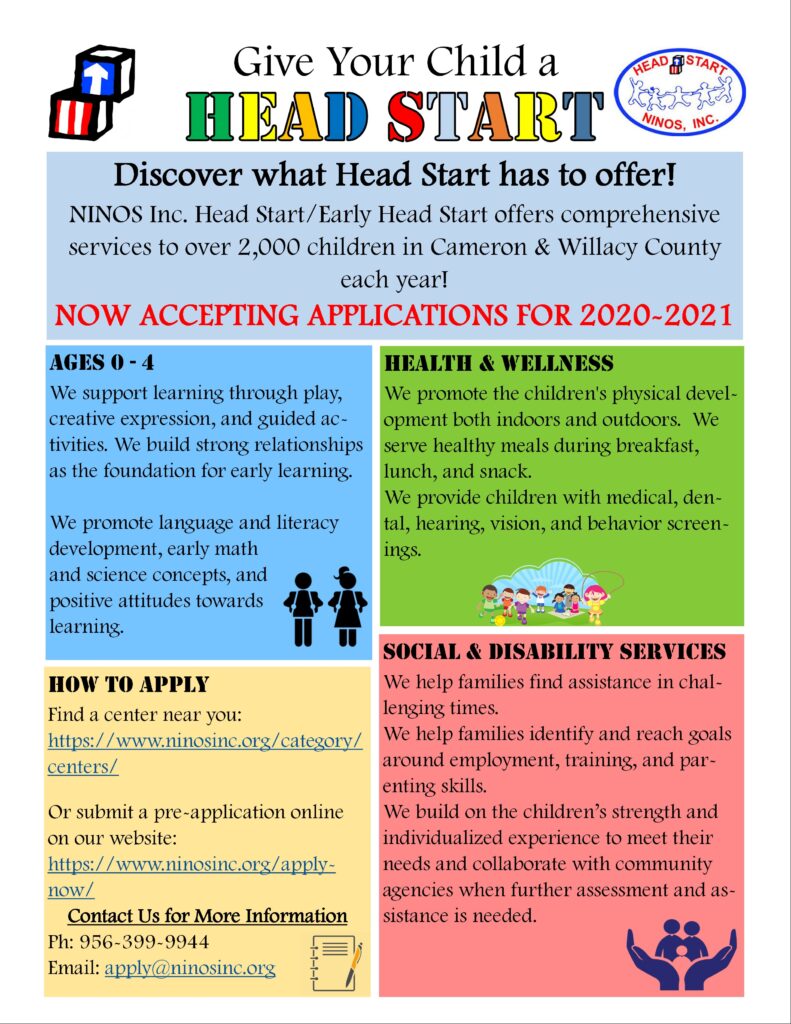 Welcome, and thank you for your interest in the NINOS, Inc. Head Start/Early Head Start Program! We are so happy you have decided to take the first step in giving your child a Head Start! Below you will find the pre-application form. Please provide as much information as possible, so that one of our highly skilled Family Service Workers can contact you. They will guide you through the application process.
If you have any questions about our program, need any assistance, or haven't heard from us after submitting your pre-application, please send us an email to apply@ninosinc.org or call our office at (956) 399-9944.
Additional Information
Follow this link to our center's directory to find your nearest center: Directory
Nondiscrimination Statement*
By submitting your pre-application you agree that the information in this application will be held in strict confidence within the agency. NINOS, Inc. does not discriminate on the basis of race, color, national origin, sex, disability, age or reprisal or retaliation for prior civil rights activity in any program or activity conducted or funded by the United States federal government.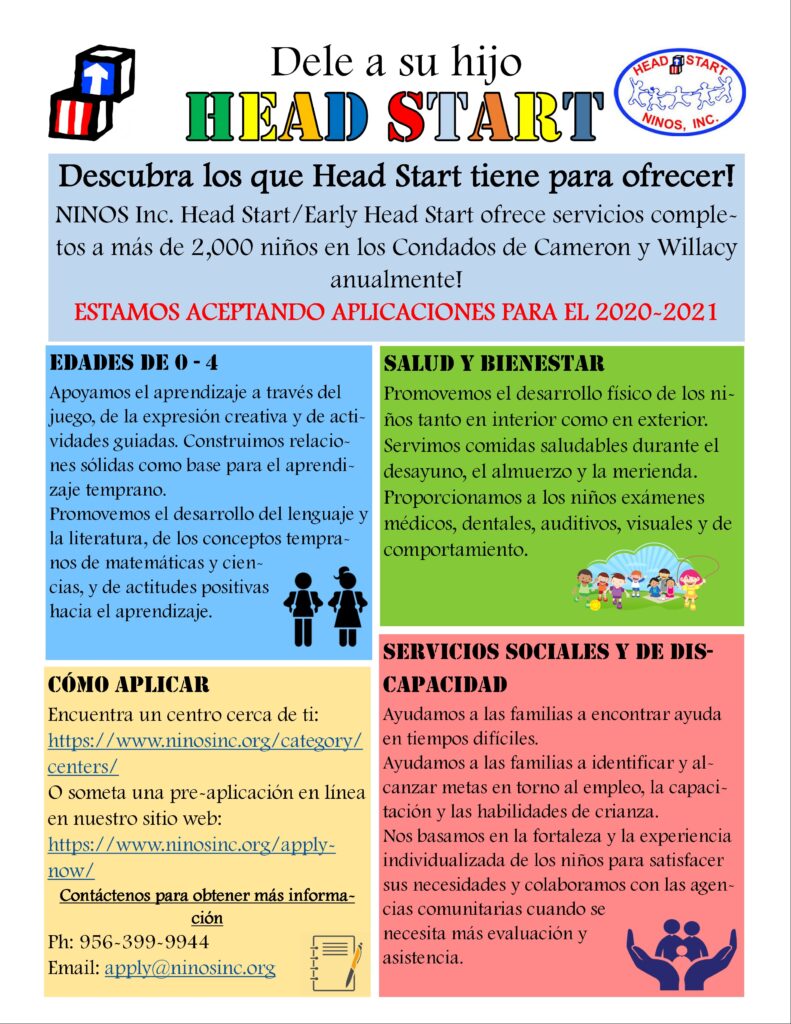 ¡Bienvenido y gracias por su interés en el Programa Head Start/Early Head Start de Ninos, Inc.! ¡Estamos muy contentos de que haya decidido dar el primer paso para darle a su hijo un Head Start! A continuación encontrará el formulario de solicitud previa para completar. Proporcione la mayor cantidad de información posible que se nos solicite para que uno de nuestros trabajadores de servicios familiares altamente calificados pueda contactarlo para guiarlo a través del proceso de solicitud y completar un solicitante de servicios.
Si tiene alguna pregunta sobre nuestro programa, necista ayuda o no ha tenido noticias nuestra despuéde enviar su solicitud previa, envíenos un correo electrónico a: apply@ninosinc.org o llame a nuestra oficina al (956) 399-9944.
Información Adicional
Siga este enlace al directorio de nuestro centro para encontrar el centro más cercano: Directorio
Declaración de no discriminación *
Al enviar su solicitud previa, usted acepta que la información en esta solicitud se mantendrá en estricta confidencialidad dentro de la agencia. NINOS, Inc. no discrimina por motivos de raza, color, origen nacional, sexo, discapacidad, edad o represalia o represalia por actividades anteriores de derechos civiles en ningún programa o actividad realizada o financiada por el gobierno federal de los Estados Unidos.